Critical Magic 비평 적 마술 is a mixed reality immersive performance based in physical contact, somatic labor, sound and movement to break physical and mental isolation and to spark discourse that is both critical and utopian. Between 8 June 2016 – and 5 July 2018, the complete score was performed in its entirety 28 times (as phases of the moon) as part of the "Probability Praxis Series," with the help of spontaneous INTERLOCUTORS (volunteer performers) in each location who played a role in linking HYENAZ with the specific site and community context of each performance. It was also performed in many more iterations, both in person and online, as partial and micro offerings up and through the final iteration as an online event at the beginning of the corona pandemic in 2020. Critical Magic challenges how bodies enter and interact within the performance space and the binary relationship between performer and consumer. Each show's location was conceptually mapped together with the interlocutors ahead of the show, and each show was reflected upon through a process of writing and feedback after the show. Following the score together, each show revealed the challenges and joys of being together in a room, accessing consent from strangers and near strangers, and how to collectively build up energy. As a marvellous and messy organizing of bodies, positionalities and perspectives, it was always a new performance.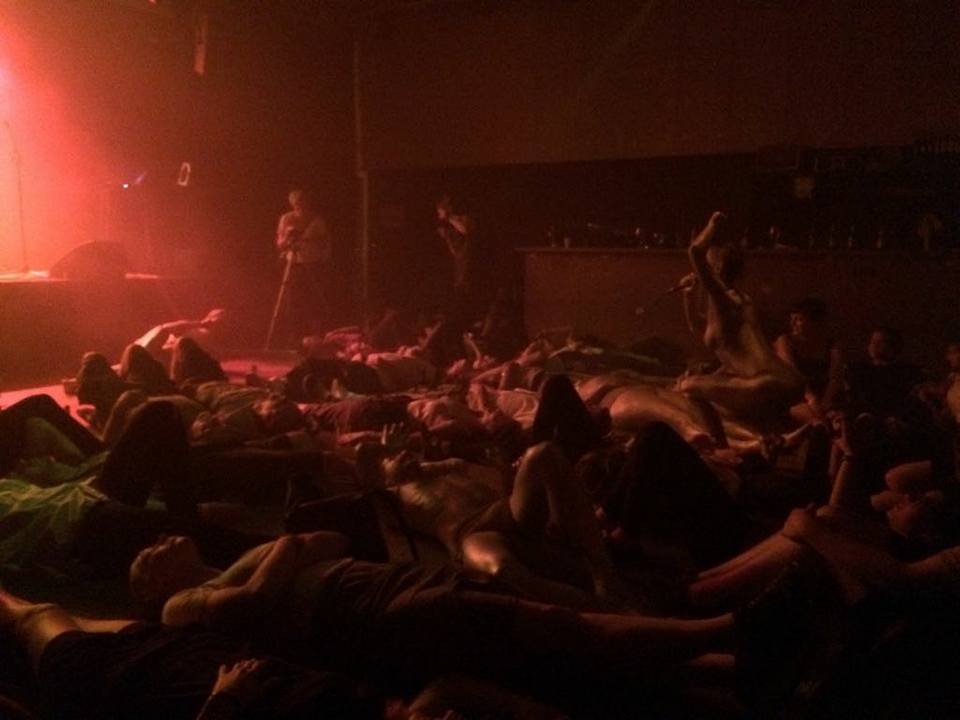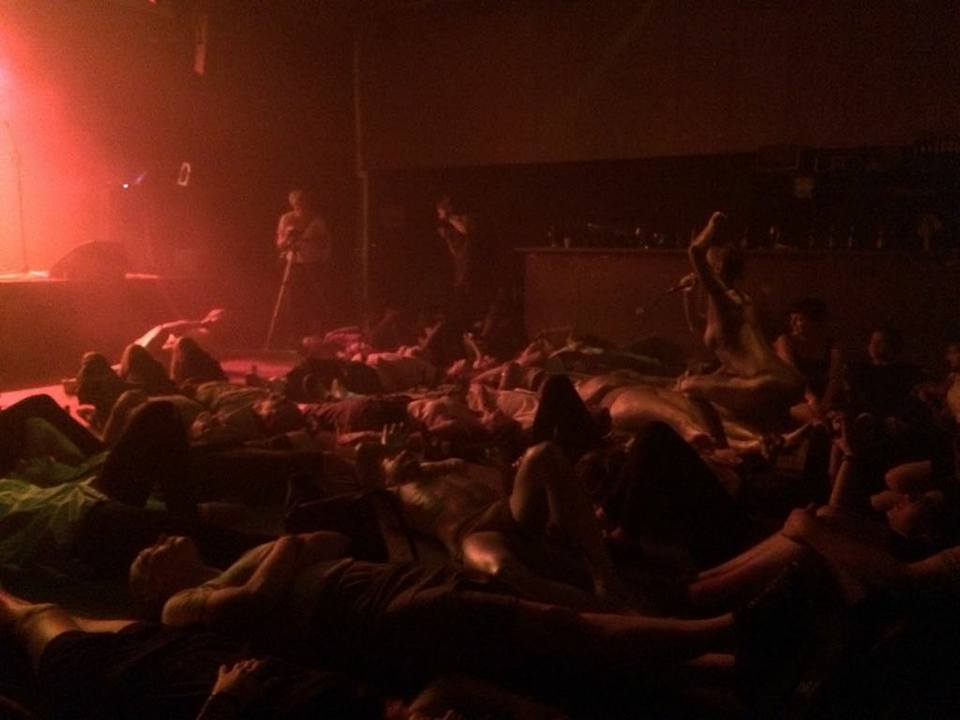 Critical Magic 비평 적 마술 emerged from a site specific performance called "Spectral Rite" (2014) commissioned by the National Museum of Modern and Contemporary Art (MMCA), Seoul with HYENAZ working under the direction of Korean artist Sylbee Kim. In this performance HYENAZ led a procession through the gallery environment, traversing its exhibits, and engaging its public. HYENAZ invoked a ritual to mourn a industrial accident during the construction of the gallery that had been suppressed in public memory and which had left many workers dead and injured.
Since this initial performance Critical Magic 비평 적 마술 has evolved into a uniquely interactive performance that integrates electronic music, chaos magic, performance art, digital media, and interactive play; a moment outside of the everyday where HYENAZ blur distinctions between audience/performer and concert/interactive ritual. Critical Magic 비평 적 마술 walks the fine line between theatrical performance piece and sonic concert, critical theory and pop sensibility, bringing its audience into a liminal space of discovery.
The styling for Critical Magic was designed by Yeorg Kronnagel (makeup design, styling and accessories) and Juan Chamié at House of EXIT (costumes). Critical Magic was mixed by HYENAZ and Bartłomiej Kuźniak, with high definition mastering by Bartłomiej Kuźniak at studio333. We are grateful to Quecke Autonomous Feminist Community for providing the space to conceive the Spectral Rite performance and record the Critical Magic album. We also want to thank our label SPRINGSTOFF for believing in this project and releasing this album into the world, along with Critical Magic Remixed.
Presenting this work over two years as an open workshop series called Probability Praxis allowed us to comment and blog about the performances in an effort to improve them, creating a dynamic and unique show every repetition. We want to thank each and every one of our INTERLOCUTORS who have danced live and on screen with us throughout this series. They have helped to create worlds and pictures that they themselves uniquely curated and designed in the moment. Our Interlocutors throughout this series have been:
Federica Dauri, ReveRso, Valentin Tszin, Nuit Nile, Donato, Savage Slit, David Wampach, Nathalie Mondot, Hana Frisonsova, Tereza Silon, Non la Décadence, Lu, Bishop Black, Olave Nduwanje, Pascal Mourits, Sanne van Driel, Yareth Habermehl, Dennis Snorremans, Lizzie Masterton, Mil Vukovic-Smart, ROC, Simon(è) Jaikiriuma Paetau, Danilo Andres, Yozhi Yazooma, Mojmir Mechura, Ambra Stucchi, Charlotte Busch, Isabel Jagoda, Joschi Rotheneder and Anonymous
1. RTS-ZI RITOPEK, SERBIA PROBABILITY PRAXIS 1 of 28 – NEW MOON 8 JUNE 2016 (Special Thanks to our host Dragan Ilic)
2. Red Gate Arts Society, Vancouver, BC Canada PROBABILITY PRAXIS 2 of 28 – WAXING CRESCENT 2 July 2016
3. Masseria Jesse, near Alta Mura Italy PROBABILITY PRAXIS 3 of 28 – WAXING CRESCENT 12 July 2016 (Special Thanks to our host Donato)
4. Urban Spree, Berlin, Germany PROBABILITY PRAXIS 4 of 28 – WAXING CRESCENT 21 October 2016 (Special Thanks to our Interlocutors: Federica Dauri, ReveRso, Valentin Tszin)
5. Cassera, Bologna, Italy PROBABILITY PRAXIS 5 of 28 – WAXING CRESCENT 28 October 2016
6. Clandestino, Faenza, Italy PROBABILITY PRAXIS 6 of 28 – WAXING CRESCENT 30 October 2016
7. ARGEKultur, Salzburg, Austria at Open Mind Festival PROBABILITY PRAXIS 7 of 28 – WAXING CRESCENT 19 November 2016
8. Humain trop Humain, Montpellier, France at Festival EXPLICIT PROBABILITY PRAXIS 8 of 28 – FIRST QUARTER 26 November 2016 (Special Thanks to our Interlocutors: Savage Slit and David Wampach)
9. La Colonie, Paris, France at MN³ w/ Polychrome – Society of Silence PROBABILITY PRAXIS 9 of 28 – WAXING GIBBOUS 17 December 2016 (Special Thanks to our Interlocutors: Nathalie Mondot and Anonymous)
10. Underdogs Ballroom, Prague, Czech, with MENU and Hana Frisonsova PROBABILITY PRAXIS 10 of 28 – WAXING GIBBOUS 20 May 2017 (Special Thanks to our Interlocutors: Hana Frisonsova and Tereza Silon and Thanks to our host Zdeněk Konečný)
11. Het-Bos, Antwerp, Belgium, STRANGELOVE Festival PROBABILITY PRAXIS 11 of 28 – WAXING GIBBOUS 2 June 2017 (Special Thanks to our Interlocutors: Non la Décadence and Lu)
12. Hedonist International Congress, Rechlin–Lärz Airfield, Lärz, Deutschland, PROBABILITY PRAXIS 12 of 28 – WAXING GIBBOUS 10 June 2017
13. Commune, Yerevan, Armenia PROBABILITY PRAXIS 13 of 28 – WAXING GIBBOUS 8 July 2017
14. Ponderosa Movement and Discovery, Stolzenhagen, Germany PROBABILITY PRAXIS 14 of 28 – WAXING GIBBOUS 22 July 2017 (Special Thanks to our Interlocutor: Tereza Silon)
15. Chateau Perche Festival, France PROBABILITY PRAXIS 15 of 28 – FULL MOON 5 August 2017
16. Garbicz Festival, Poland PROBABILITY PRAXIS 16 of 28 – WANING GIBBOUS 5 August 2017 (Special Thanks to our Interlocutors: Tereza Silon and Bishop Black)
17. Loppen. Christiania Denmark PROBABILITY PRAXIS 17 of 28 – WANING GIBBOUS 13 August 2017
18. AMS St. Georgen im Schwarzwald PROBABILITY PRAXIS 18 of 28 – WANING GIBBOUS 1 September 2017
19. WORM, Rotterdam, Netherlands PROBABILITY PRAXIS 19 of 28 – WANING GIBBOUS 2 September 2017 (Special Thanks to our Interlocutors: Olave Nduwanje, Manon la Decadance, Pascal Mourits, Lu, Sanne van Driel, Yareth Habermehl, Dennis Snorremans)
20. Winchester, England. Probability Praxis 20 of 28 15 September 2017 WANING GIBBOUS
21. COVEN – Underdog Gallery, London, England. Probability praxis 21 of 28 WANING GIBBOUS 16 September 2017 (Special Thanks to our Interlocutors: Lizzie Masterton, Mil Vukovic-Smart)
22. Zürich. Les Belles des Nuit PROBABILITY PRAXIS 22 of 28 27 October 2017 THIRD QUARTER
23. Queercore how to punk a revolution UT Connewitz, Leipzig, Germany. PROBABILITY PRAXIS 23 of 28 11 November 2018 WANING CRESCENT
23A. Urban Spree 17 February 2018 <<48 MINUTE SET >> (Thanks to our Interlocutors: ROC, Bishop Black, Simon(è) Jaikiriuma Paetau, Danilo Andres)
23B Köpi, Berlin, DE 30 April 2018 <<48 Minute Set>> (Thanks to our Interlocutors: Tereza Silon, ROC, Simon(è) Jaikiriuma Paetau , Federica Dauri)
24. S L Y // H Y E N A Z // PUNCTUM, Prague, CZ. PROBABILITY PRAXIS 24 of 28 20 May 2018 WANING CRESCENT (Special Thanks to our Interlocutors: Tereza Silon, Hana Frisonsova, Yozhi Yazooma, Mojmir Mechura)
25. Queer Culture, Thiembuktu, Magdeburg, DE PROBABILITY PRAXIS 23 of 28 26 May 2018 WANING CRESCENT
26. Torstrassen Festival, Berlin, Germany. 09 June 2018 WANING CRESCENT Berlin (Special Thanks to our Interlocutors: Ambra Stucchi, Simon(è) Jaikiriuma Paetau)
27. Les Beau est Toujour Bizarre, Parterre Am Ry, Basel, CH 16 June 2018 WANING CRESCENT
28. Kultur Fabrik, Hildesheim, DE 05 July 2018 WANING CRESCENT (Special Thanks to our Interlocutors: Charlotte Busch, Isabel Jagoda, Joschi Rotheneder)