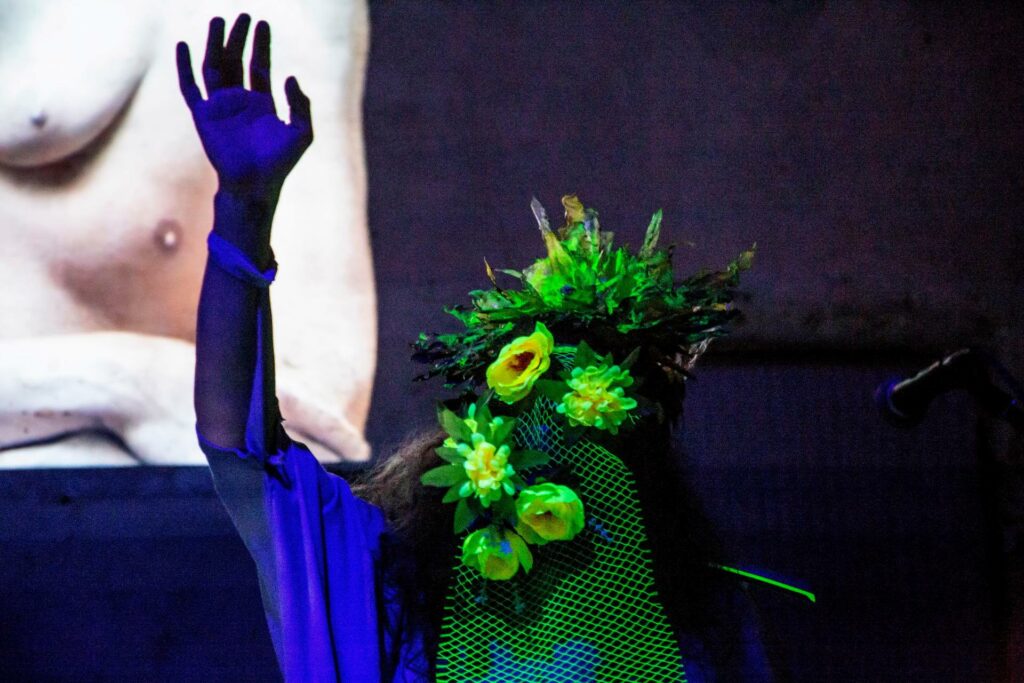 HYENAZ are sonic alchemists Kathryn Fischer aka Mad Kate and Adrienne Teicher who create electronic music and performances to confront how bodies are criminalized, managed and controlled. Utilizing interactive dance, somatic exercises and immersive sonic theatre, they investigate how movement shapes our subjectivities and how our subjectivities shape both the way we move and the way we are allowed to move.

Patrick Wildermann of Tagesspiegel described HYENAZ as "a project that dissolves borders, torpedoing the dividing lines between music and performance."

Since 2015, HYENAZ have been creating a series of audiovisual works, installations and performative interventions entitled Foreign Bodies that explore relationships of bodies in motion and bodies in resistance, interrogating the notion of the "foreign". They have visited refugee camps, squats, and intentional communities by bus, train, hitch-hiking and bicycle to collect field recordings, conduct interviews and facilitate deep listening workshops.
HYENAZ examine and challenge the mechanisms that treat the body as a foreign object: a thing to be managed and controlled, an unknown territory even to itself, an "other" to be feared and annihilated. Central to this project is the idea that the body is disappearing: from social interactions blasted into the corporate cloud, to machine intelligence tangled in the systems that govern life, to techno-futurists fantasies of an age where analogue flesh has vanished into digital consciousness. At this uncanny juncture, where surfaces look familiar, but everything is shifting, HYENAZ have been working with the visceral body.
HYENAZ are currently undertaking a STIP-III stipendium from Musikfonds to compose the final audio works in the Foreign Bodies series as well as to explore the sonic potentialities of stone as a material.
Their latest audiovisual work Extraction turns a critical eye on cultures of extraction in art and performance, while fostering accountability practices in field recordings and the creation of sonic works. It was developed through a research residency at Hamburg's Kampnagel Theatre supported by Fonds DaKu.
Another work in the series is Perimeter, a mix of EP, music video and VR documentary which was exhibited at the Come Alive exhibition in Utrecht in 2022. The work poses the question: what does it feel like to understand oneself as "just outside" and yet also "just barely inside" an identity, a concept, a philosophy, a group, a family, a home, a situation, a gathering. The project featured Berlin-based performers Mmakgosi Kgabi, Martini Cherry Furter and Simon(è) Jaikiriuma Paetau and was supported by Musicboard Berlin.
With support from Musikfonds, HYENAZ created a generative sound installation with Yusuph Suso entitled Ex-Situ, which explores how human beings exist in past, current, and future homeland(s) and premiered at Maxim Gorki Theatre.
Outside of Foreign Bodies, HYENAZ have collaborated with artists and writers to create diverse audiovisual works, such as Eku Eku Eku (a call to death), with Ghanaian multi-disciplinary artist Va-Bene Elikem Fiatsi [crazinisT artisT] supported by Goethe-Institut and "Bodies, Figurations, Worlds," a series of queer educational films by professor Antke Engel.
In 2021, HYENAZ premiered their new stage work Automine at Cross Attic in Prague, also presenting the work at Performing Arts Festival Berlin in 2022.
In 2019 they premiered their stage show knowbody at Studio Я – Maxim Gorki Theater, choreographed and directed a group of contemporary dancers called Clusterfuck for Peaches' epic stage revue, "There's Only One Peach with the Hole in the Middle." HYENAZ have also created award-winning sound design for theatrical works by Sivan Ben Yishai including Verdienst Dein Krieg: 8 Soldiers Moonsick at Maxim Gorki Theatre and "Unsere Stadt aus Vogelaugen / Eine Blutung im Dunkeln" atMünchner Kammerspiele and TD Berlin.
With their electrifying live show, HYENAZ have performed at iconic venues and festivals, including Berghain, Royal Festival Hall, and SXSW, and opened for PEACHES in Berlin and Hamburg on their 2022 tour. HYENAZ's boundary-pushing electronic music and multisensory performances offer a unique perspective on the power dynamics of control and resistance.
PRESS:
HYENAZ is a project that disintegrates borders, torpedoing the dividing lines between music and performance.
Patrick Wildermann, Tagesspiegel
"Performative Monster Duo"
Peaches
[In] the performance of Hyenaz…. everything is water, so we are people, water bodies, all connected…. It's not a blurred vision, but a hyper-vision.
Simone van Saarloos, De Groene Amsterdaamer
The duo are known for pushing their forward thinking electronic music and confrontational performances into fully realized artistic expressions.
Tometotheweathermachine
If you've roamed around the never-ending artistic rabbit holes of Berlin, HYENAZ are a household name that you've certainly come across, and all for the right reasons.
Francisco Gonçalves Silva, Berlin In Stereo